ESE Young Endocrinologists & Scientists (EYES) Committee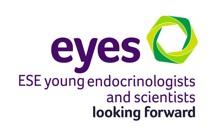 The European Young Endocrine Scientists (EYES), formed in 2013, to promote research excellence, active engagement and development of early career investigators (ECIs), within Europe across all disciplines of endocrinology.
In 2019, EYES became the official early career branch of the ESE and was renamed ESE Young Endocrinologists and Scientists (EYES).
The EYES Committee remit includes the following items:
To act in collaboration with the ESE Executive Committee and foster active engagement of early career investigators (ECIs) within the ESE.
To promote activities that engage ECIs and senior members in open dialogue and collaborative initiatives.
To increase ECI awareness of research trends and application of new technologies within the field of endocrinology.
To increase engagement of clinical trainees and improve training in endocrinology across Europe.
Active involvement of EYES community in scientific and social programs at the European Congress of Endocrinology (ECE), including organising the EYES symposia session at ECE.
To increase engagement with all ECIs within endocrinology across Europe.
To facilitate translation of scientific findings to government.
To raise the profiles of EYES ECIs.
EYES Committee representatives in the ESE Committees are:
Barbara Altieri, Germany, Membership Committee and Rare Disease Committee.
Juan Manuel Jiménez-Vacas, USA, Science Committee (and ROP Co-Ordinator).
Antoan Sojat, Serbia , Clinical Committee.
Walter Vena, Italy, Education Committee and EYES News Editor.
ESE Team member responsibility: Head of Membership, Communications and Marketing.
Find out more about our Early-Career activities