European Hormone Day returns on Wednesday 24 April 2024!
European Hormone Day brings together the endocrine community to promote endocrine health – Because Hormones Matter. Many people have an idea of what hormones are, but do not really know what hormones do or how individuals can improve their endocrine health. For that reason, European Hormone Day 2024 will focus on increasing public awareness of the vital role hormones play in health and disease.
How to get involved
All those with an interest are encouraged to promote the small steps everyone can take towards better hormone health. This might include in-person events or spreading the word on social media. Choose whatever themes are most relevant to your own community.
We will provide a public outreach toolkit in due course to help you plan. This will include an information guide with ideas for public-facing activities covering cancer, obesity, endocrine-disrupting chemicals and rare diseases. As in 2023, the toolkit will also include new and updated infographics, animations, social media templates and a calendar of endocrine-related awareness days. We will provide translations of digital materials in the 10 most common European languages. More information on the toolkit will follow in the new year.
Watch the story of European Hormone Day to find out more!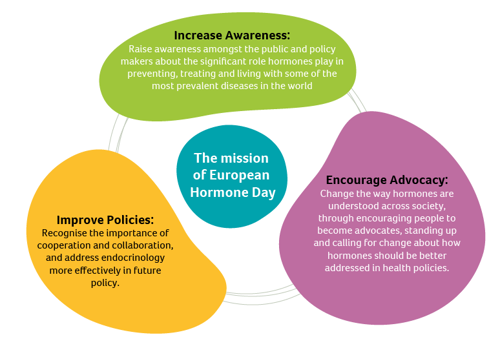 Because Hormones Matter
European Hormone Day began in 2022 to put the spotlight on endocrine health, organised by ESE and the European Hormone and Metabolism Foundation (ESE Foundation). The first two campaigns focused on building connections between endocrine stakeholders and issues a collective call for change about how hormones and endocrine-related disease are addressed in public policy across Europe:
Watch what happened on European Hormone Day 2023.
Will you join us in raising awareness of the importance of good hormonal health?
If you have any questions, please contact us.
Stay in the loop for European Hormone Day 2024 by signing up for ESE News >>